HOME: 3sky.de
...weitere Bilder + Info: Leuchtende Nachtwolken 18./19.07.2022
...further images: Noctilucent Clouds 2022-07-18/19

Beobachtungsort: Rostock ~54.2°N / 12.1°E
Mehr Informationen und zurück zu Noctilucent Clouds
Location: Rostock ~54.2°N / 12.1°E
More information and back to Noctilucent Clouds

Cameras used
f (focal length)

Filter
Filter (2)

Other

Canon EOS 1100Da
35 mm
Rollei Astroklar
OWB-Clip
NW-sector
Sony Alpha 7S
12 mm




N-sector
freehand

Sony Alpha 7S
50 mm
Dydim


N-sector
Sony Alpha 7S
300 mm
Dydim


N-horizon
NW-sector:
(end in the morning, largest extent to W)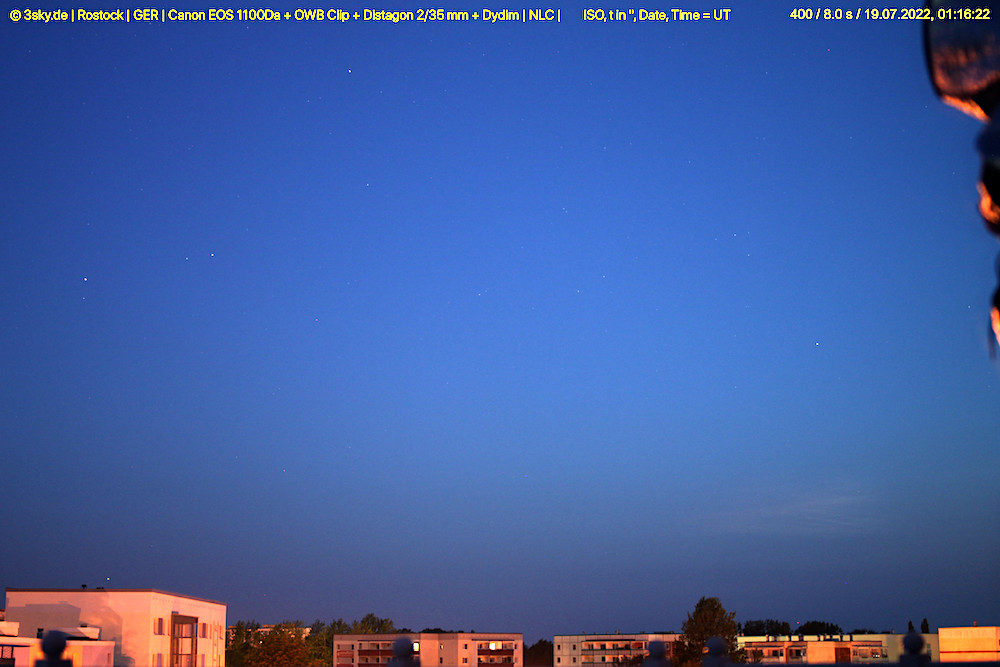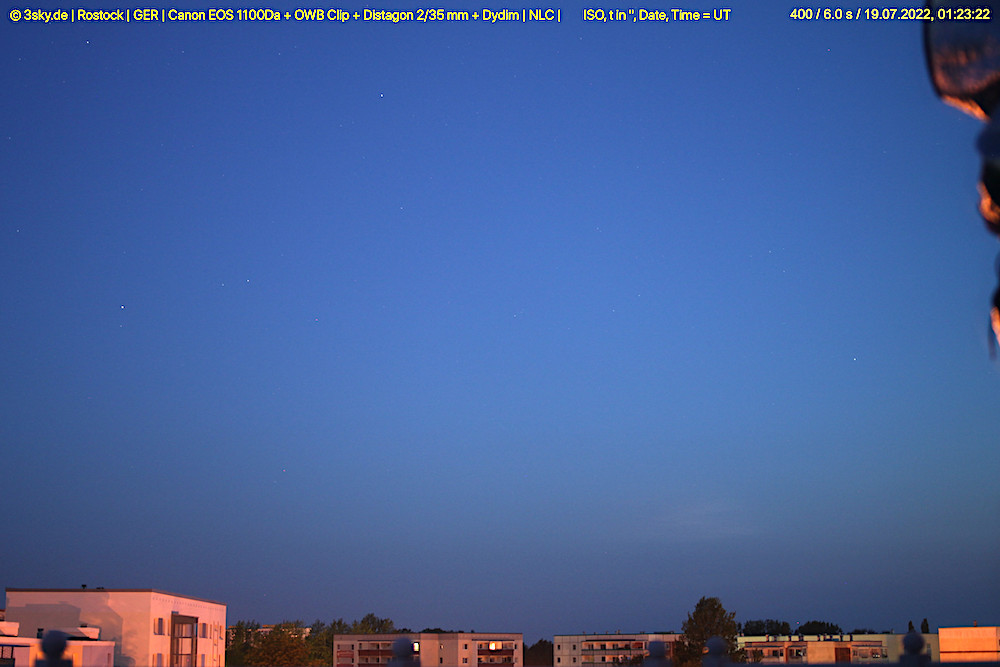 N-sector:

Time lapse f 50 mm:
on youtube
https://www.youtube.com/watch?v=_PYdlGkDdYc

Please, on youtube, use setting for best quality. Sorry for bad quality in upper sky area - that is made by youtube itself.
But if you watch the lower part only (with NLC) it will be ok ;-)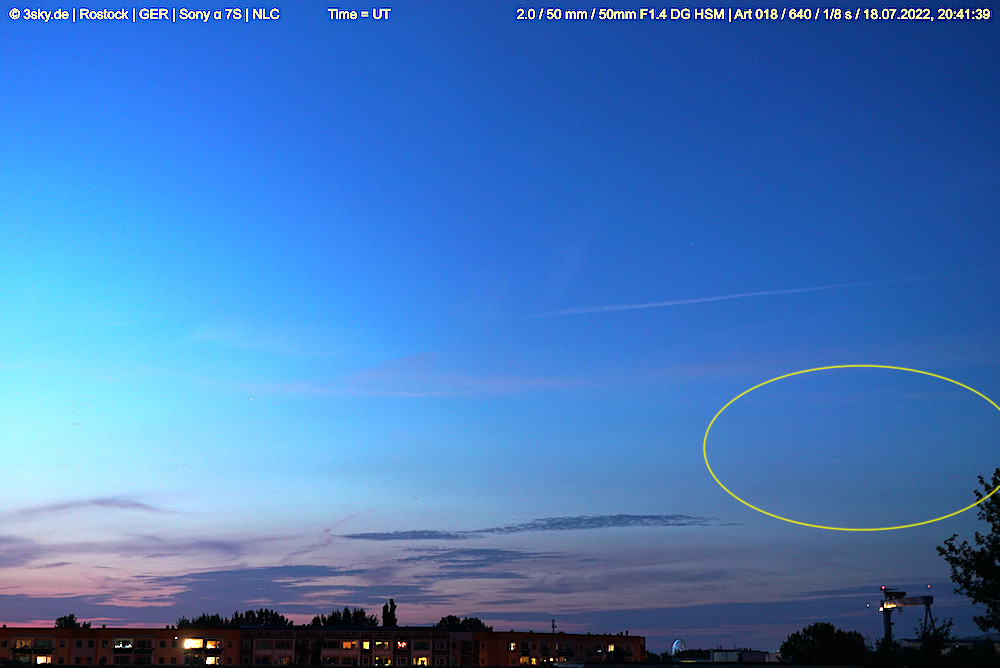 first patches, post processed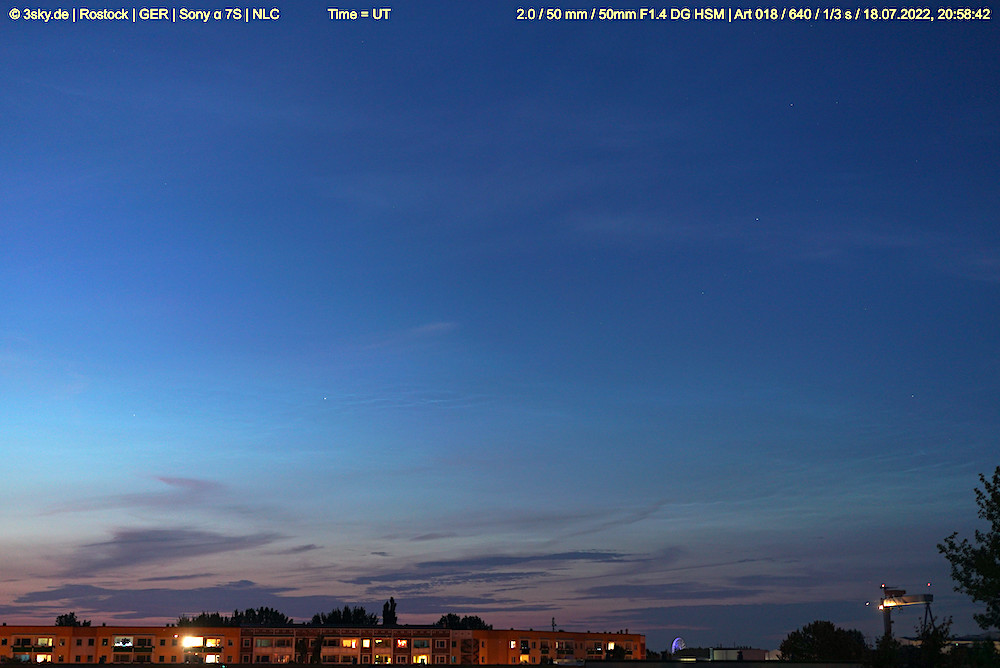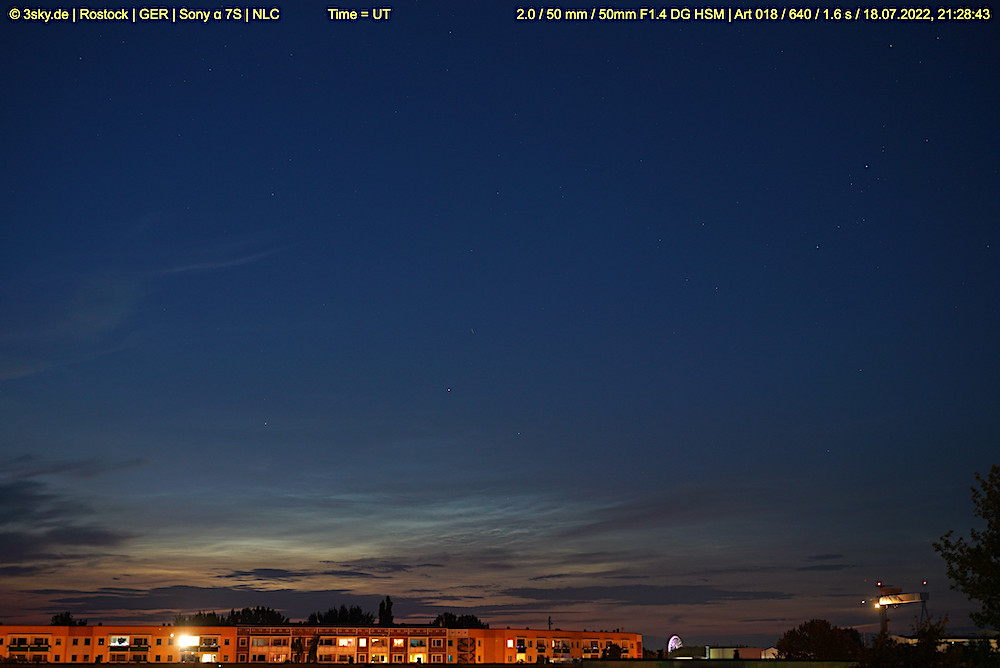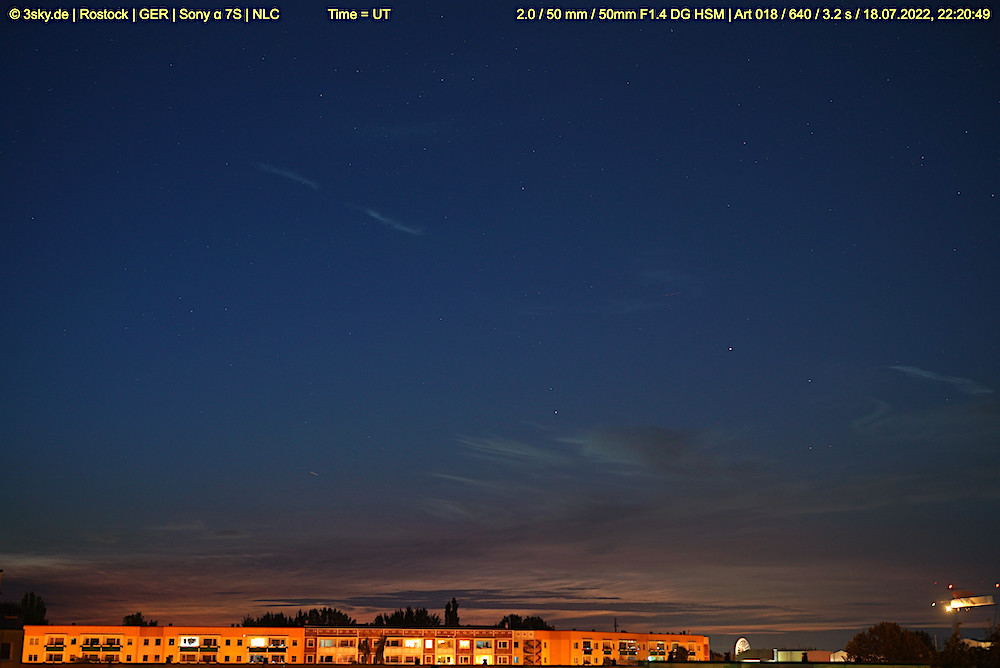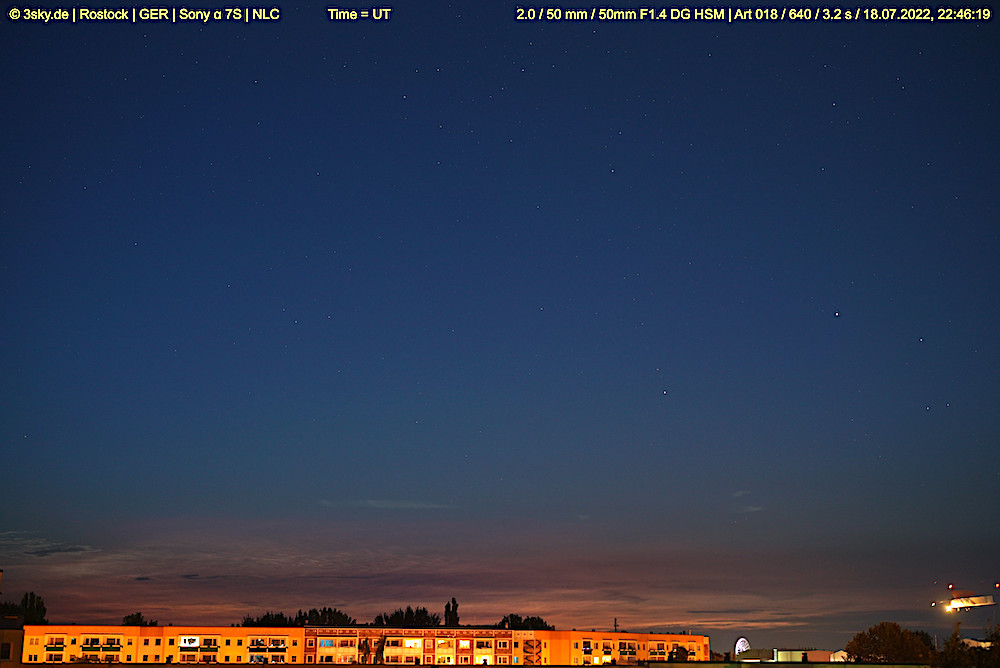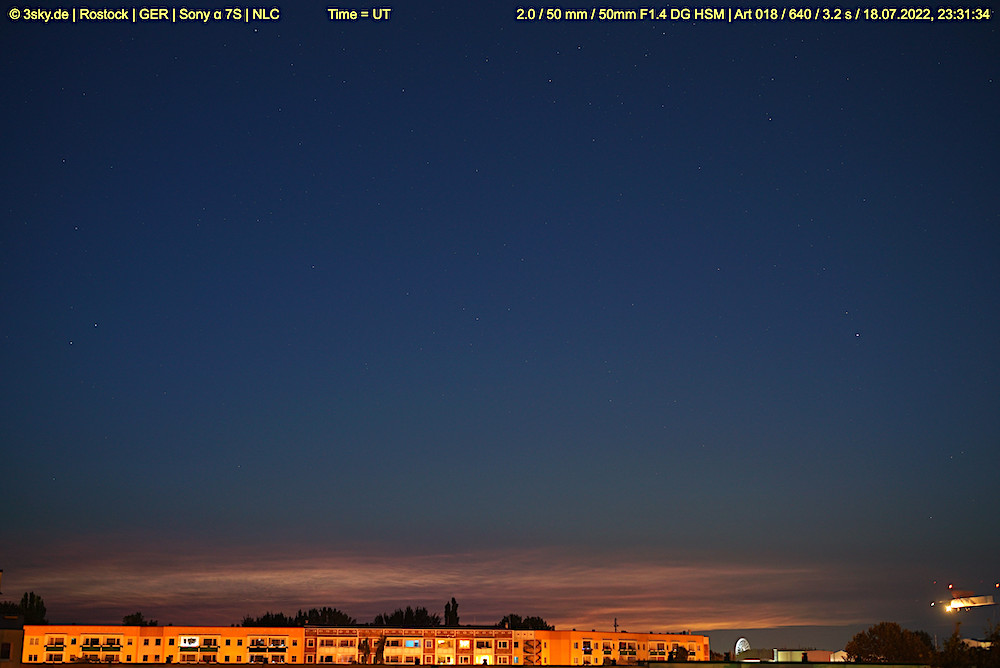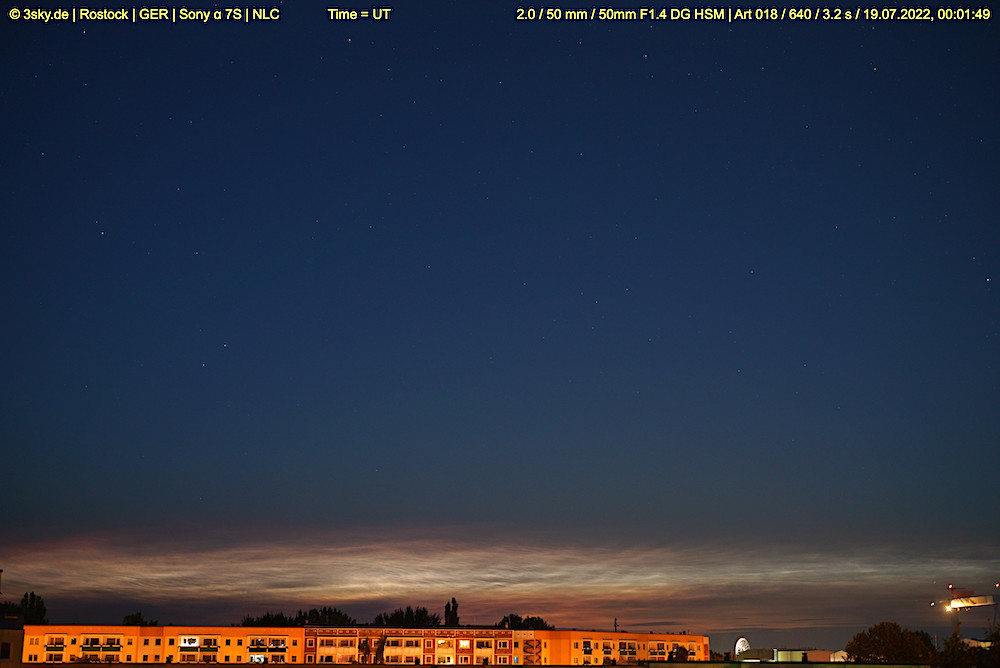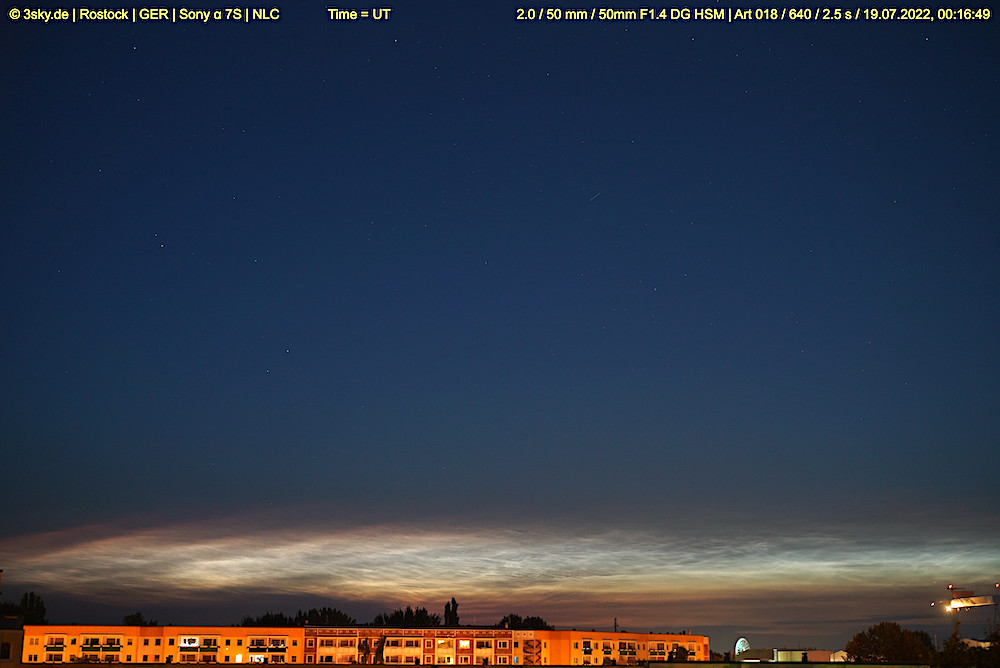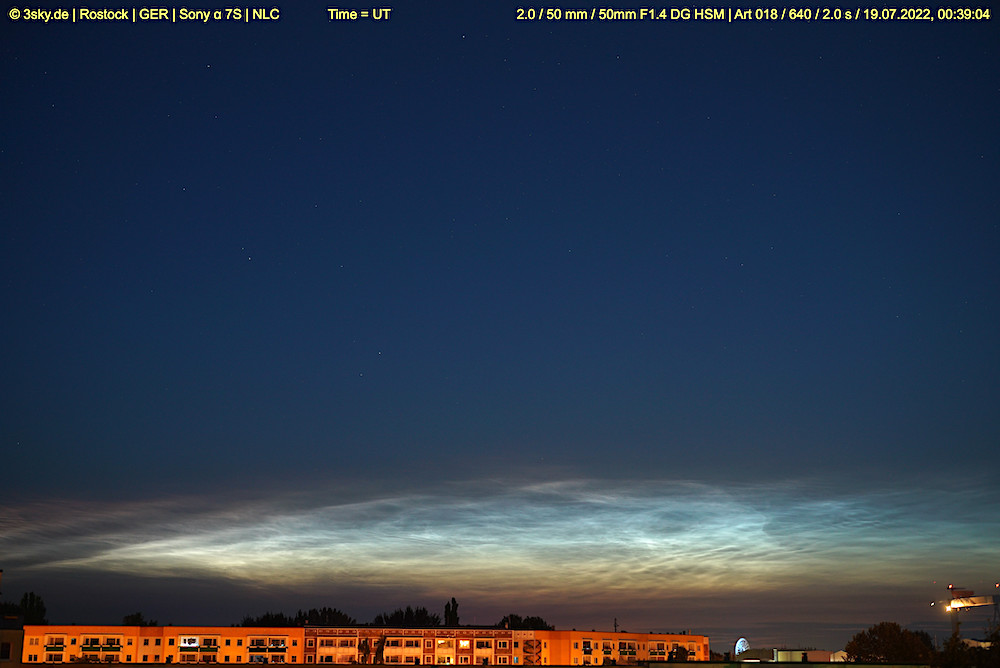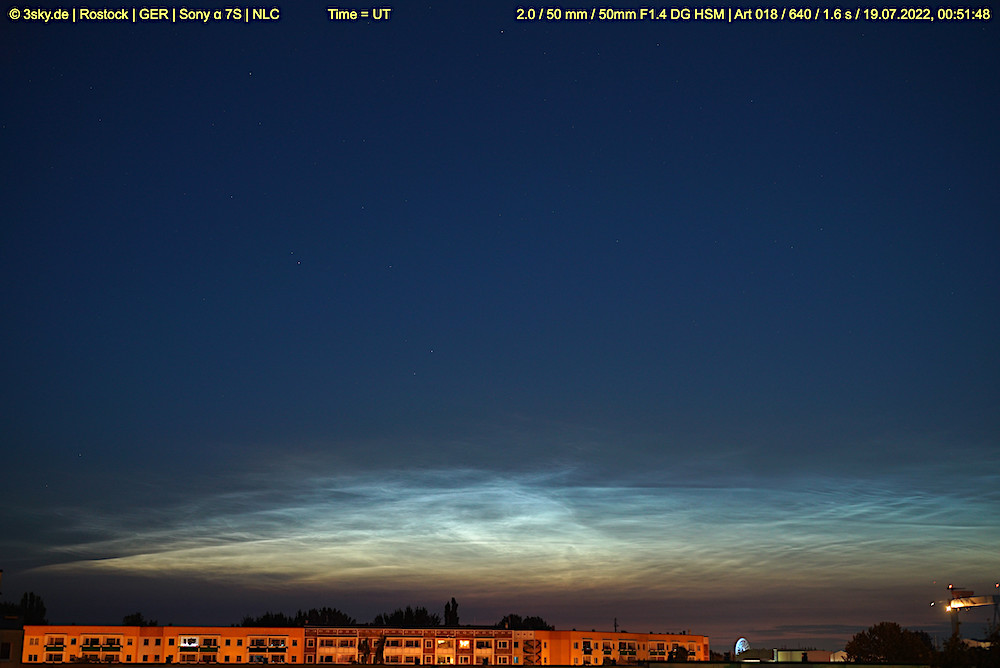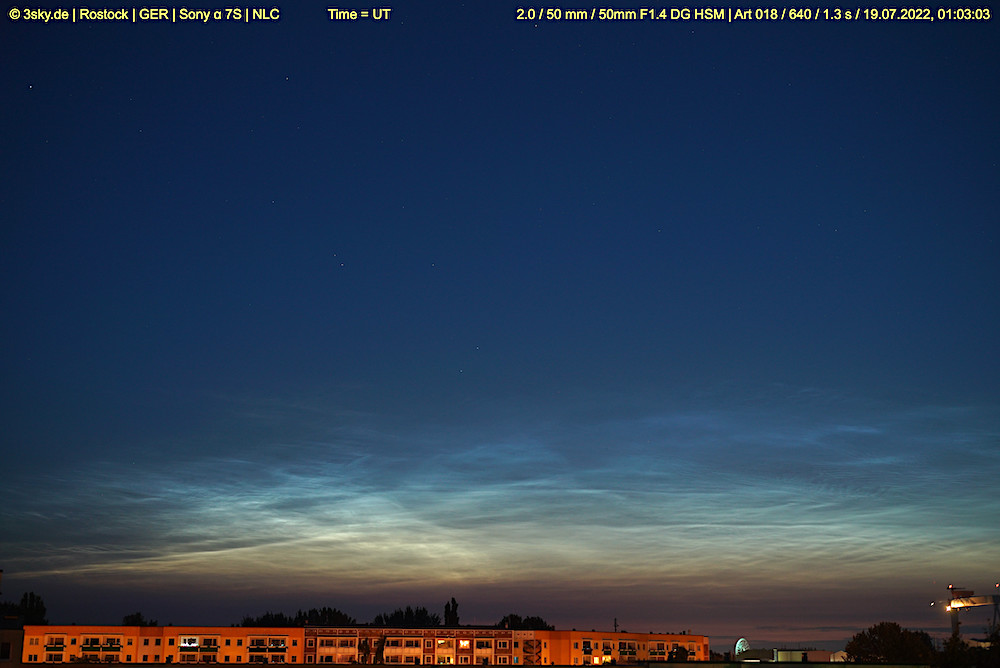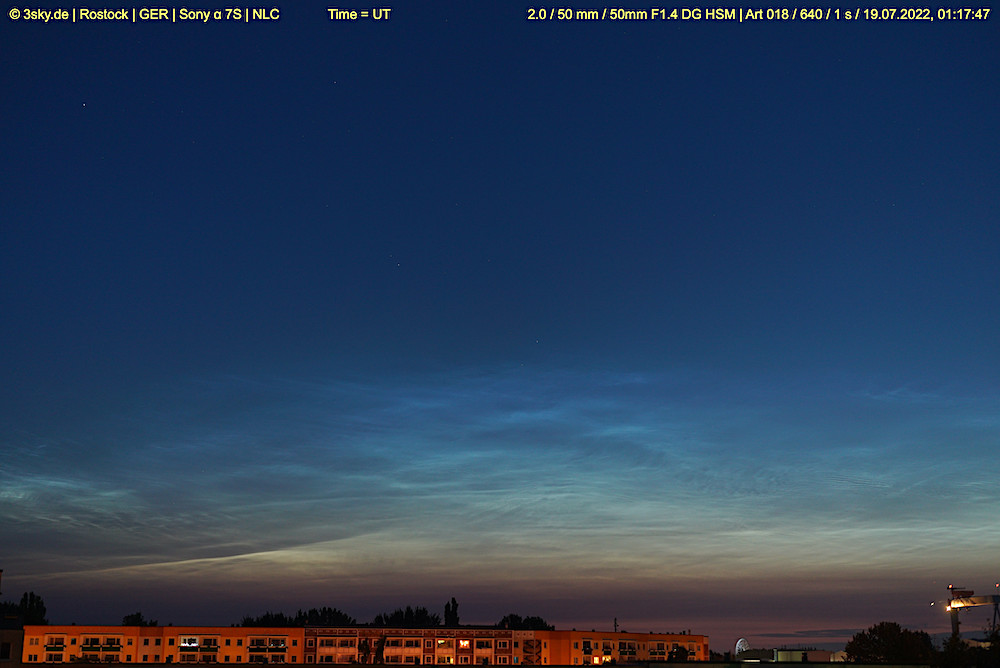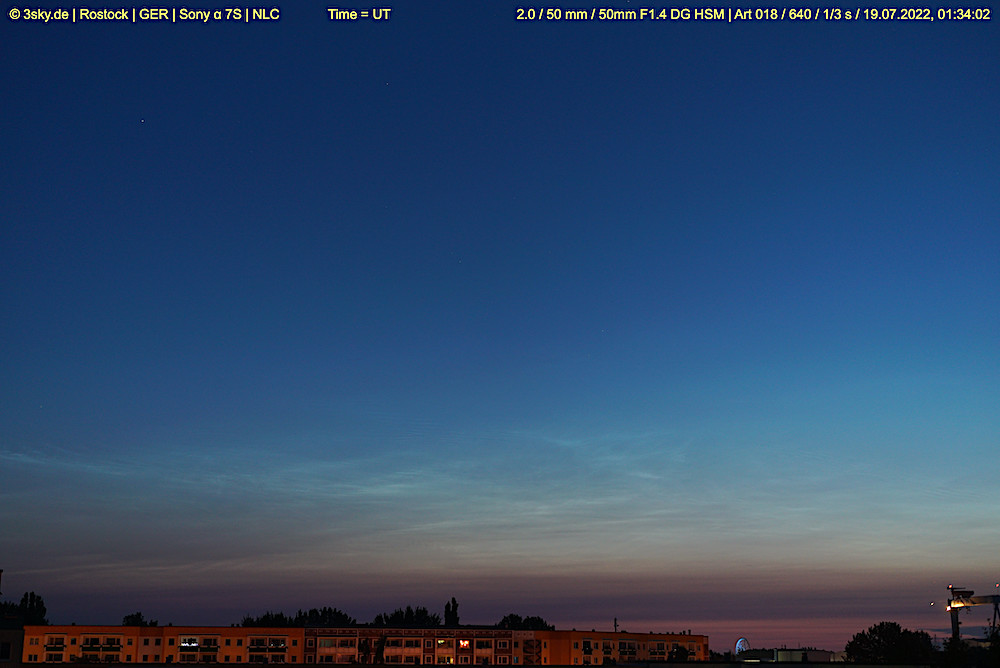 Tele views (f 300 mm) along northern horizon:

4 x f 300 mm in two rows: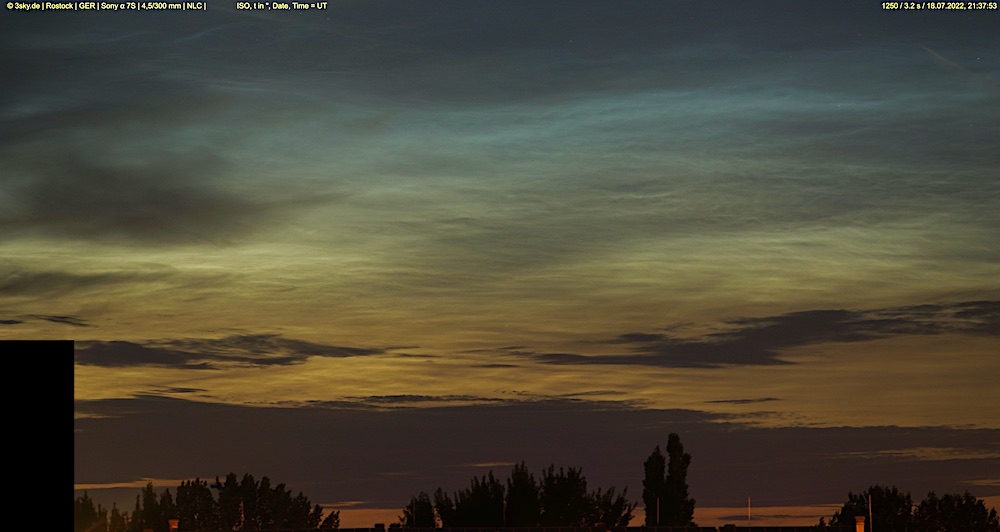 00:11 - 00:13 UT, 10 x f 300 mm, Sony Alpha 7S + Pentacon 4,5/300 mm, ISO 1250, t 3,2" - 6"
Please enlarge (10 x f 300 mm):

10000 x 918 pixel, 1,2 MB

Please enlarge (2 x f 300 mm):

7000 x 1585 pixel, 1,9 MB
f 12 mm:

single shot (freehand, post processed)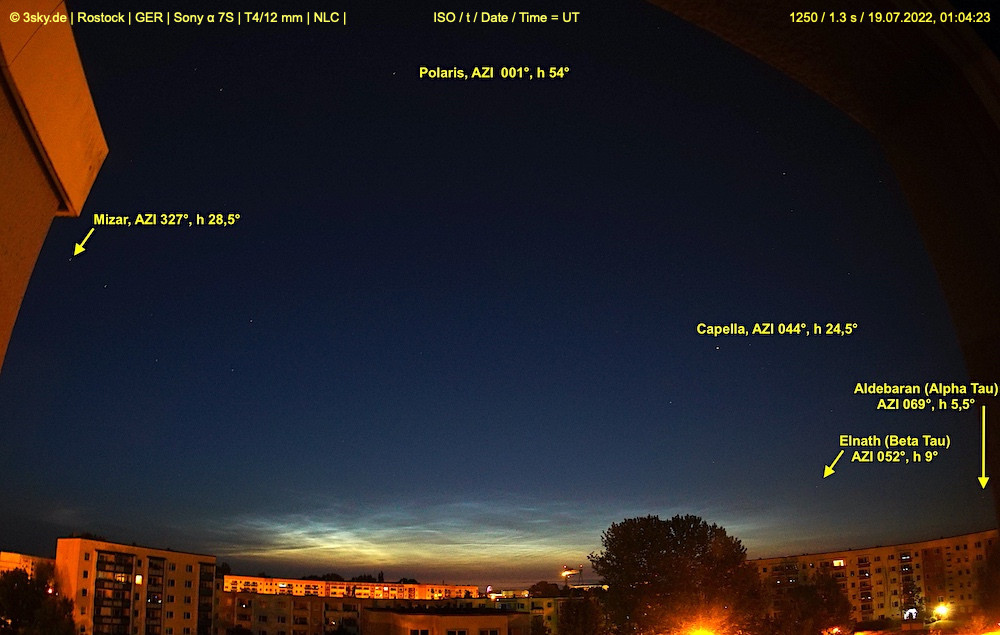 Please enlarge:

1600 x 1016 pixel, 390 KB
Stacking results: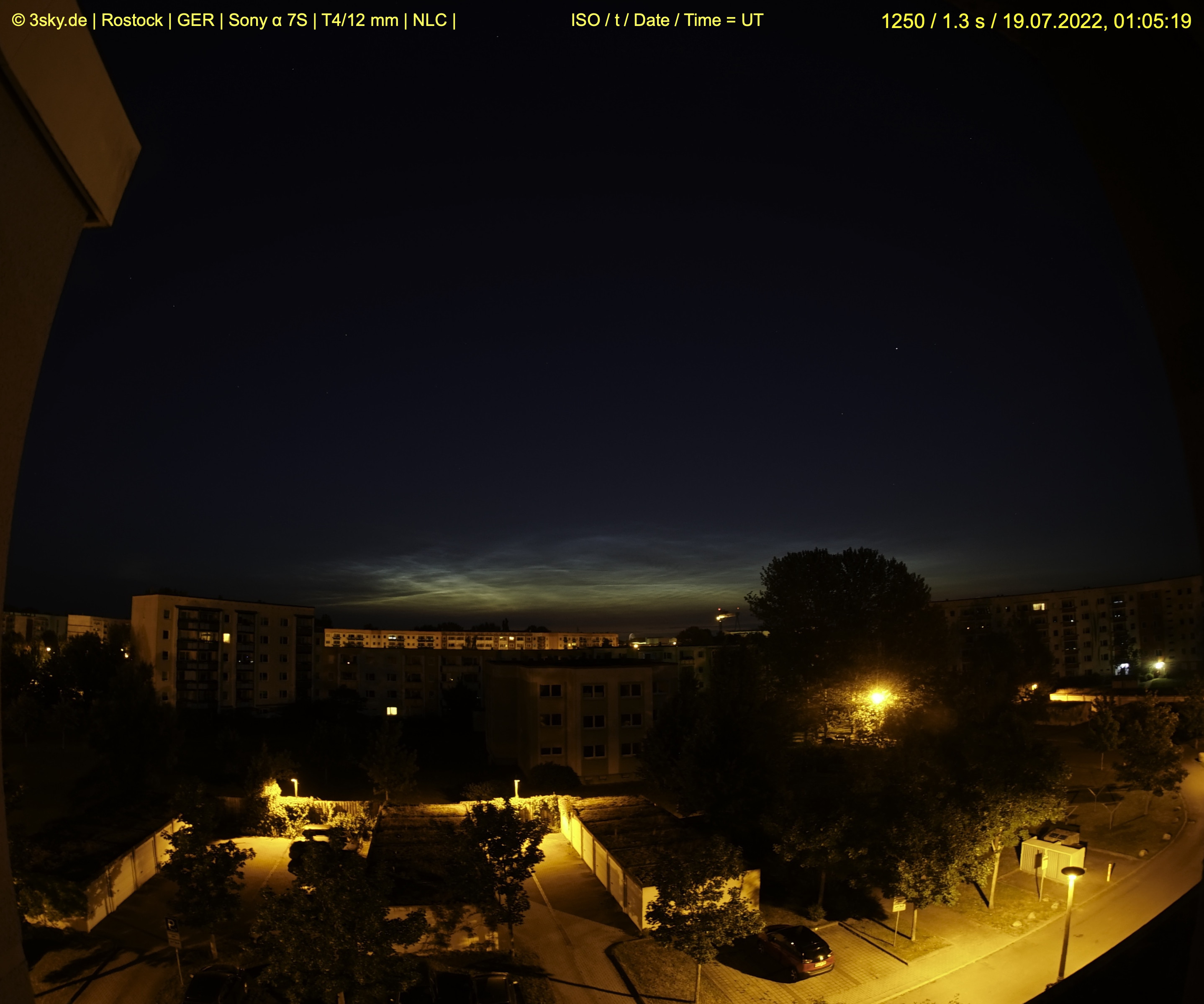 5 x f 12 mm (freehand) stacked with Starry Sky Stacker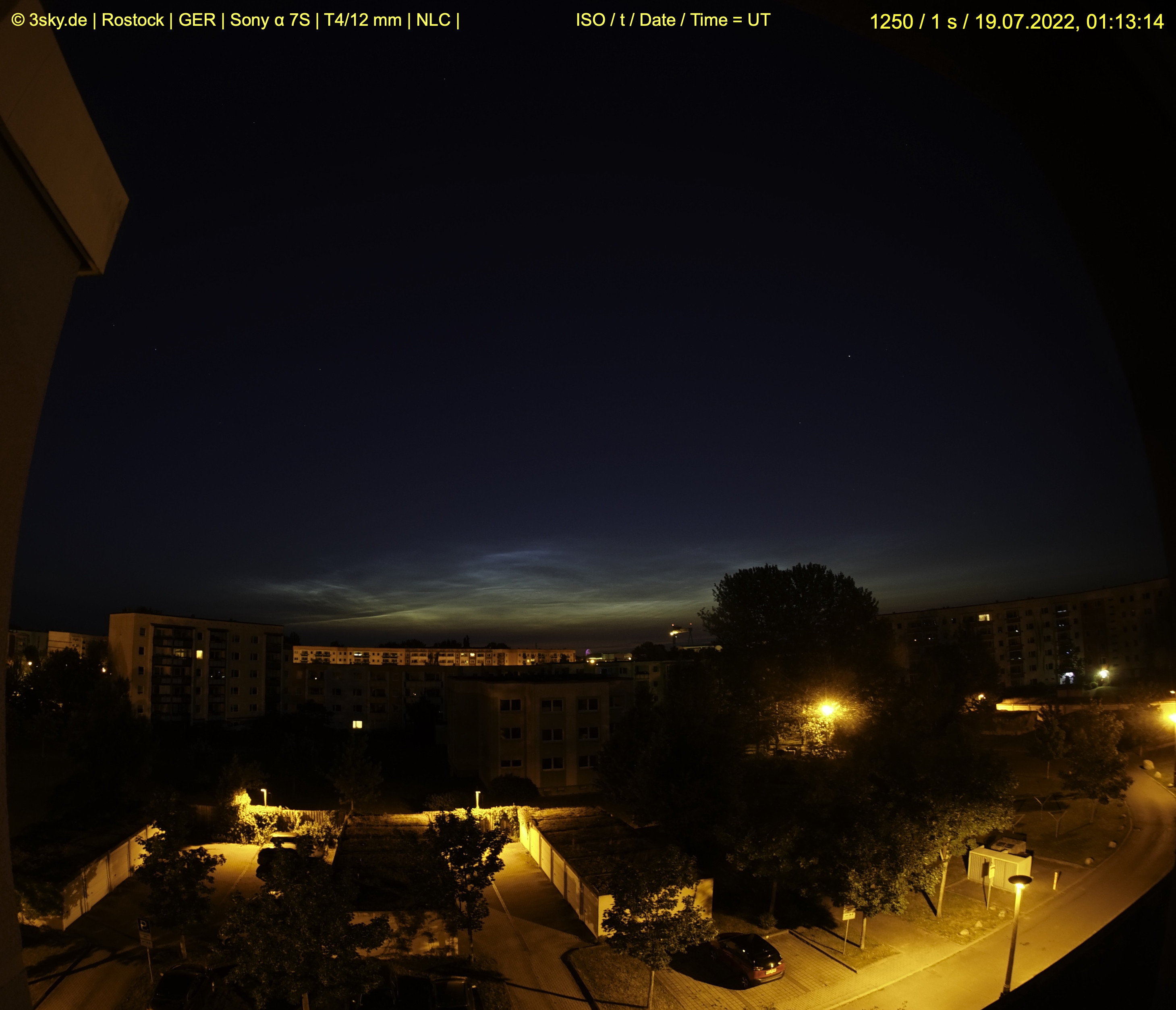 4 x f 12 mm (freehand) stacked with Starry Sky Stacker


8 x f 12 mm (freehand) stacked with Starry Sky Stacker

Time (UT)

NLC Forms

Max. Elevation (°)


Brightness

Comments

before 20:41 - 02:03

*

I, II, III, IV, P, V


12,5
(evening + morning)


3 (- 4)


AZI: 317° (morning) - ~ 060° (morning, evening > 030°)
first part between clouds / behind cirrus
brightness more to 3 than to 4, maybe close to 4...



*

automatic + manual camera observations




Photographs and text are copyright ©2022 Olaf SQUARRA
"Atmosphärisches" https://3sky.de