HOME: 3sky.de
...weitere Bilder + Info: Leuchtende Nachtwolken (?) 04./05.07.2015
...further images: Noctilucent Clouds (?) 2015-07-04./05.
Beobachtungsort: Rostock ~54.2°N / 12.1°E
Mehr Informationen und zurueck zu Noctilucent Clouds
Location: Rostock ~54.2°N / 12.1°E
More information and back to Noctilucent Clouds
Canon EOS 600D (f=30 mm)

- PROBABLE OBSERVATION ONLY-
NOT REALLY VERIFIED BUT OBVIOUS HINTS ESPECIALLY IN COMPARISON TO RECORDINGS ON THE IAP NLC CAMERA NETWORK AROUND THE SAME TIME (HERE ESPECIALLY: CAMERA IN KÜHLUNGSBORN, PROBABLY ON IOW CAMERA WARNEMÜNDE, TOO (WEAK..., OVER EXPOSED))
MORE ON REQUEST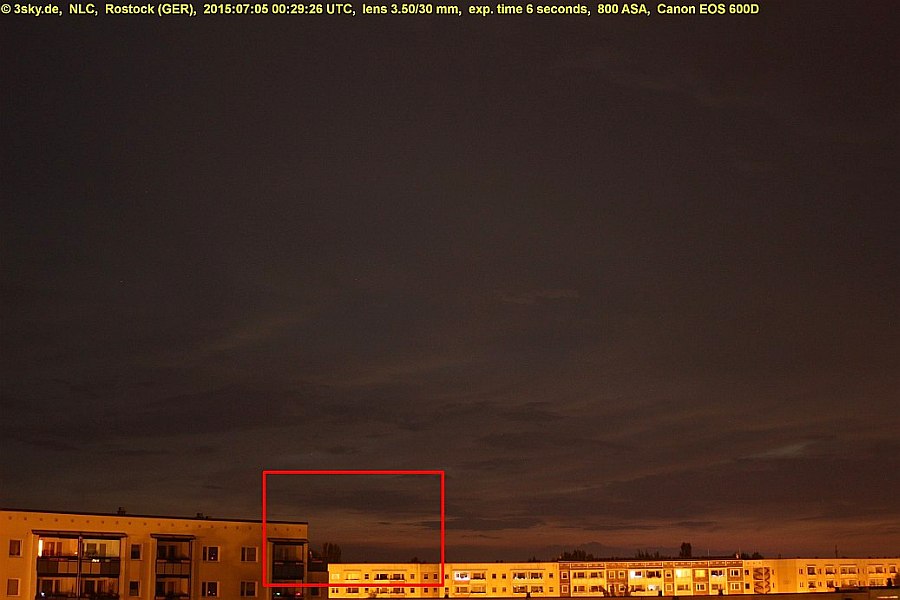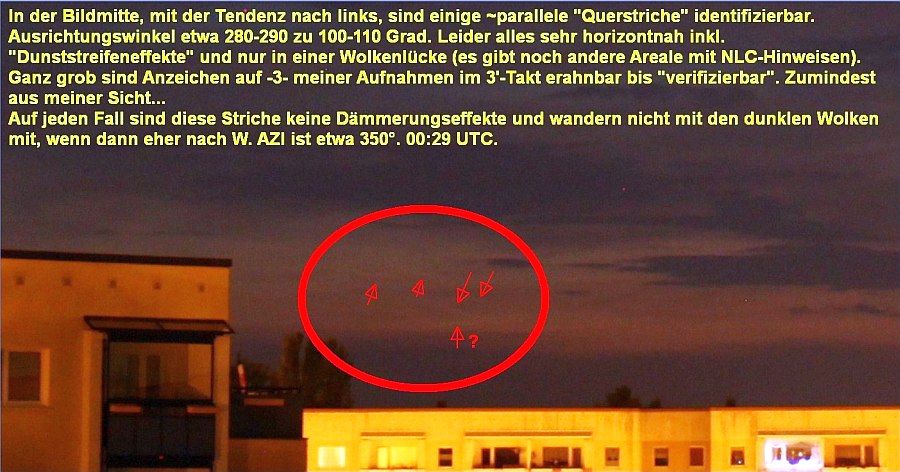 Time (UT)

NLC Forms

Max. Elevation

Brightness

Comments

around ~ 00:30-00:45,
probably later, too (around 01:10)

III

min. 3°

(1)

AZI ~NNW;
automatic camera capture, not seen with the naked eye
(German text only...:)
Ergebnisse resultieren nur aus automatischer Kamerabeobachtung, nichts mit bloßem Auge beobachtet. Die eigene Kamerabeobachtung konnte mit vom IAP zur Verfügung gestellten Aufzeichungen abgeglichen werden (insbesondere NLC-Kamera Kühlungsborn, eventuell NLC-Kamera IOW-Warnemünde). Ein 100%iger Nachweis, für "jedermann" augenscheinlich ersichtlich bleibt vorerst aus. Aus meiner Sicht sind aber auf jeden Fall sehr horizontnahe NLC in NNW vorhanden gewesen.


Photographs and text are copyright ©2016 Olaf SQUARRA
"Atmosphaerisches" http://3sky.de